Concrete Raising and Leveling In Atlanta
The stability of any concrete slab depends on the soil conditions under and around the slab. Since soil expands and contracts all year round it, is common for slabs to raise or sink. Other factors such as erosion, tree roots or quality of concrete can all play a part in slab movement. This is where concrete lifting and leveling services become useful. Rather than tearing out an existing factory floor or driveway, it is often much more cost effective to consider our service.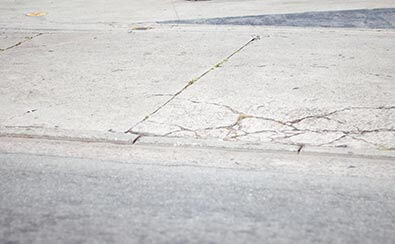 Our technicians have decades of concrete raising experience.
We drill small holes through the slab and pump polyurethane foam underneath. As the expanding foam flows beneath the surface, voids and depressions are filled and the slab is raised to achieve the desired height. This proven process has been around for decades.
This method of raising concrete is ideal for sunken sidewalks, steps, stoops, driveways, pool decks, garage floors, garage center columns, patios, factory floors, city streets, curbs, gutters and airport runways.
Polyurethane foam can also be used for void filling and soil stabilization to remedy issues caused by sinkholes and soil erosion
Providing Concrete Leveling Services For Residential and Commercial Property Owners
We provide commercial and residential property owners in the metro Atlanta area with efficient, durable concrete raising/stabilization solutions. We're not only expert slab lifters, but also expert listeners. We aim for 100% customer satisfaction. Our technicians are trained in concrete leveling for driveways, patios, sidewalks, steps, pool decks, and commercial properties. We pride ourselves in our commitment to provide excellent service to all of our customers.
Our goal is to provide homeowners and commercial business in the metro Atlanta area with quality solutions for the service we provide. We strive to attain 100% customer satisfaction by helping each customer learn about what is the root cause of the problem and how we recommend they fix it most cost efficiently. We try to avoid complete concrete replacement in order to avoid a great but unnecessary expense.
Concrete Raising Atlanta has been providing excellent service, quality jobs at a competitive price, and a no hassle approach to performing the work for years. We serve the greater metro area of Atlanta Georgia as well as the surrounding areas. For a free estimate on any of our services call 678-287-0671 or click the button below to fill out our free estimate form.